Congratulations! You just signed a big, long-term contract with a new customer. In the coming few years your business will be supplying this customer, goods and services according to the defined terms and conditions. So, how are you going to track and follow up?
SAP Business One provides you the Blanket Agreement document, an "umbrella" document in which you can define the time line, type, terms and other details related to this contract. In addition, you can refer the documents created within the framework of this contract to that blanket agreement, and add attachments. All the activities and paper trail related to this long term contract are available in one place!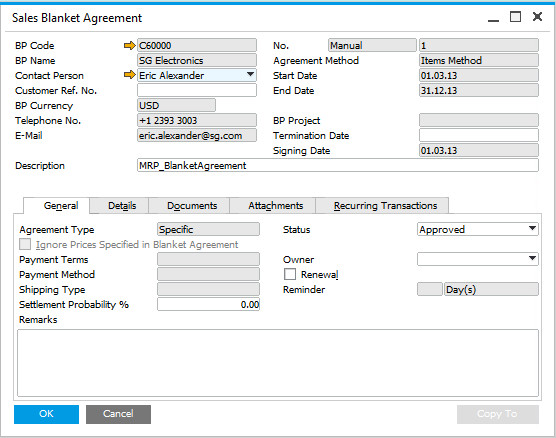 Blanket agreements are available in both Sales – A/R and Purchasing – A/P modules, it can be used as a basis for expected revenue forecasts, quantity reservation, and for Material Requirements Planning (MRP).
Available in SAP Business One, version for SAP HANA and SAP Business One.
We hope that you find this tip useful! For more information on Business One you can visit our webpage or get in touch
Source: Ari Schapira | SAP Business One – The Tip of the Week